It had been some years since this Quarry tiled floor at a house in the market town of Stafford had been professionally cleaned and was now long overdue some TLC. The previous sealer had worn down allowing dirt to accumulate in the pores of the tile leaving it looking dull and dirty and difficult to keep clean. There were also a couple of loose tiles that needed re-setting.
Before quoting I visited the property to inspect the floor and carry out a test clean on part of the floor. The test came out well which impressed my clients and gave me an accurate plan for cleaning the rest of the Quarry tiled floor. I quoted for two days work plus materials which was agreed, and we scheduled a date for the work to be done.
Cleaning and Repairing a Quarry Tiled Dining Room Floor
The first day I spent deep cleaning the Quarry tile and grout using a strong dilution of Tile Doctor Pro-Clean worked in with a rotary machine with black scrubbing pad attached. The soil generated was extracted with a wet vacuum and the floor rinsed and extracted again.
At this point I like to inspect the floor looking for any stubborn marks or areas that need repeat cleaning. Once identified I repeat the earlier cleaning process and if that doesn't work, I resort to using neat Pro-Clean scrubbed in by hand with a lot of elbow grease until I'm satisfied that the tile and grout is as clean as possible.
As mentioned before there were a couple of loose tiles that needed refitting and so before leaving, I spent time pulling those out, cleaning them up, preparing the base, relaying them with fresh adhesive and then grouting with matching grout. The floor was then left overnight to fully dry out and for the newly replaced tiles to set.
Sealing a Quarry Tiled Dining Room Floor
I returned the following day and first used a damp meter to check that the floor was suitably dry. I know from experience that for best results the floor needs to be dry before applying the sealer, to apply a sealer to a damp floor can result in a patchy appearance. In this case the readings were fine otherwise I would of arranged to come back on a different day or applied a bit of gentle heat from a heat gun until dry.
I had discussed finishes with my client before starting work and it was clear their preference was for the Quarry tiles to have a nice shine, as it would have had originally so I selected to use Tile Doctor Seal and Go. This product is a specially formulated water-based blend of acrylic polymers that provides a stain resistant seal and being water based it doesn't give off an unpleasant odour as it dries. Four coats of Seal and Go were applied allowing each coat to dry out before applying the next one. The result was the tiles were left with a lovely subtle shine as requested.
The client was very happy with the newly restored floor and for aftercare cleaning I recommended Tile Doctor Neutral Tile cleaner, this is pH balanced product that that isn't overly strong and won't prematurely degrade the newly applied sealer like most of the household cleaners you find in supermarkets.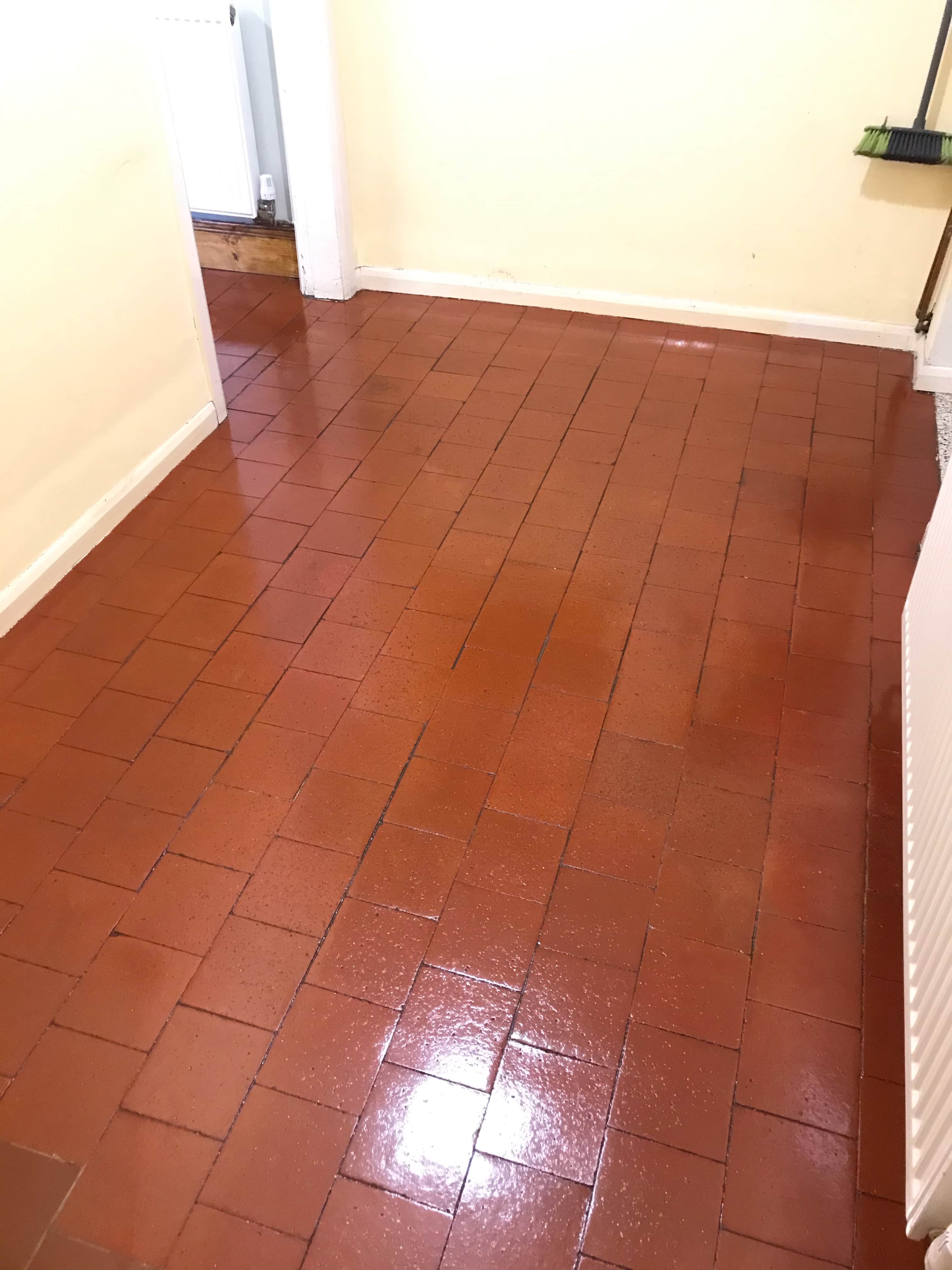 Professional Restoration of a Quarry Tiled Hallway in Staffordshire