This job was a full restoration of a Victorian tiled floor that had been hidden under those thin adhesive backed lino tiles (see photo below) in the hallway of a house in Sutton Coldfield.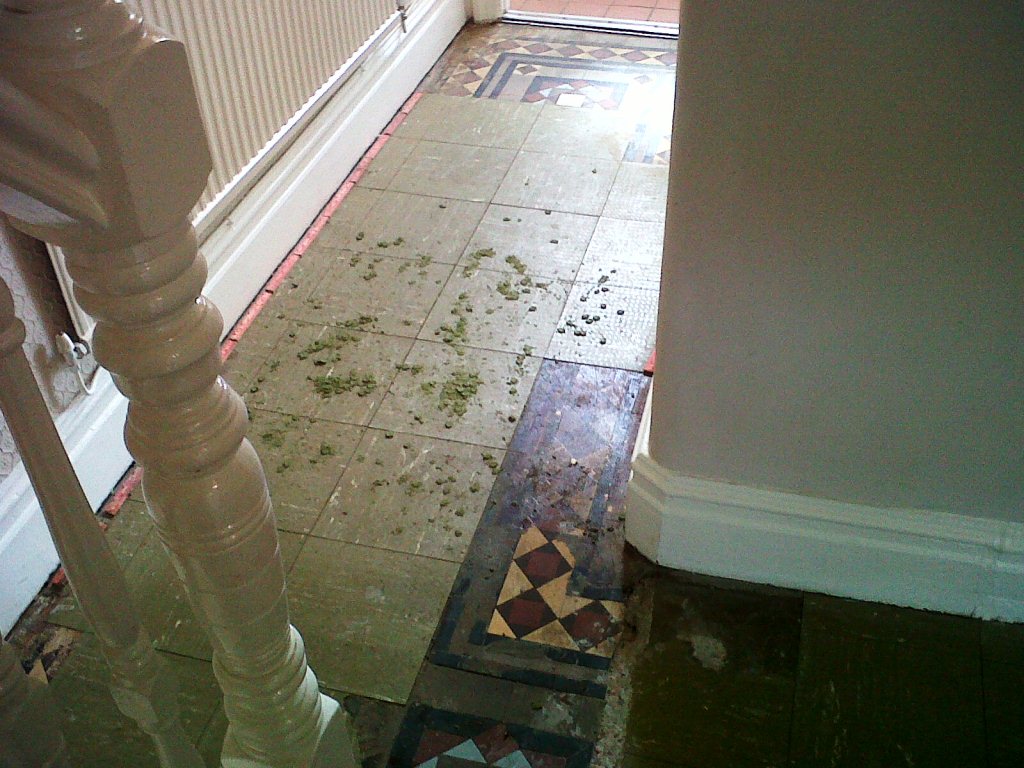 Restoring Victorian Floor Tiles
The first job was to remove the vinyl tiles which being stuck onto the floor left a rather nasty looking floor. I knew from experience this would be tricky to remove and so soaked the floor in Tile Doctor Remove and Go (does what it says on the tin) and left it for a while to soften the glues. Then with a rotary machines fitted with a polyscrub brush attached running at slow speed set about scrubbing the floor to get as much glue of the Victorian floor tiles as possible. This process worked quite well however once I have removed the soiled solution using a wet vacuum I could see there were still quite a a few stubborn patches remaining. The solution was to get down on my hands & knees with a nylon brush, a scraper and more Remove and Go, as you can imagine it took a long time to get the floor really clean and when finished I gave the tile a thorough wash down with water to neutralise the floor and then left it overnight to dry.
Sealing Victorian floor Tiles
The next day I confirmed the floor had dried and then proceeded to apply four coats of Tile Doctor Seal & Go which is the recommended sealer for Victorian tiles, it not only protects the tile it also leaves a nice shine on the floor.
The photographs show a huge transformation and my customer was absolutely delighted with the results, and left the comment below on the Tile Doctor feedback system.
Trevor had a very tough job to do getting our Victorian tiles into shape after decades under a Marley tile floor. They were covered in layers of hard glue but Trevor worked exceptionally hard restoring them to like new. Trevor was very friendly and punctual. An excellent job done and we would definitely recommend him.
Mr. G. Stendall, Sutton Coldfield, West Midlands
Victorian tiled hallway floor Restored in Sutton Coldfield